2014 ACRC Bowl Series: Kutztown University vs University of Michigan
Saturday November 22, 2014 - 12:00 AM
November 22, 2014

-

1:00PM

@ ACRC Bowl Series @ Rugby Athletic Center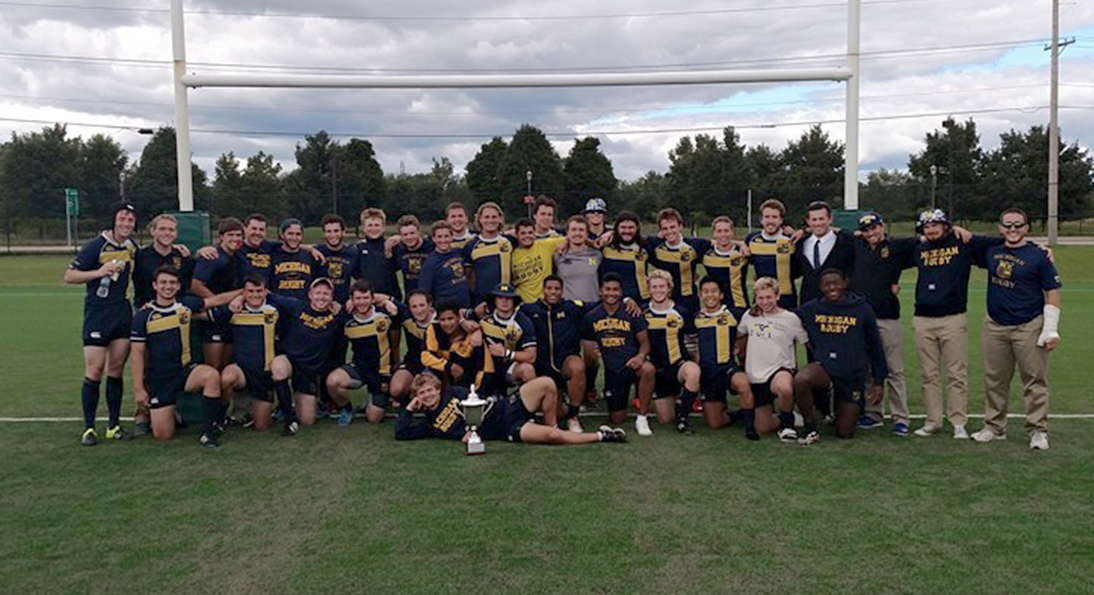 Michigan showed speed and heart, but a methodical, athletic Kutztown squad wore down the Wolverines in a 43-17 ACRC Bowl Series victory for the Golden Bears. 
Michigan struck first with a try by Matt Kasten, answered soon after by Kutztown's Bilah Hassen. It was pretty much Kutztown thereafter as the Bears' relentless physicality and superior ball control kept the pressure on in Michigan territory until the final minutes, when the Wolverines kicked it up a notch to score a final try. 
About University of Michigan vs. Kutztown University
Kutztown faced the University of Michigan at 1:00pm Saturday November 22nd 2014 at the Rugby Athletic Center in Charlotte, North Carolina. The game pitted two teams known for strength, agility and a dynamic, open style of play.
The Golden Bears suffered a few late-season injuries. The Bears battered but far from broken, emerged from Rugby East Conference play with a 9-1 record—their one loss a very close game at West Point. 
The Wolverines can point to victories against Illinois and Wisconsin (handing the Badgers their only conference loss), as well as a very close 19-17 loss to Big Ten regular season champ Indiana, as proof of their readiness to battle one of the top teams in the nation.
University of Michigan Wolverines Lineup

Nick Fehrman - Prop
Jackson Wagner - Hooker
Jordan Ulmer - Prop
Zach Burns - Lock
Chris Byer - Lock
Jesse Fenno - Wing Forward
Chening Duker - Wing Forward
Cole Van Hahn - Eight
Albert Foo- Scrum Half
Joel Conzelmann - Fly Half /Captain
Cooper Smart - Wing
Jared Bosma - Inside Center
Zach Burns - Outside Center
Matt Kasten - Wing
Tohy Rakatloloka - Fullback

Reserves

Nick Azzopardi
Jeremy Reid
Cody Griffin
Brian Chu
Guy Burke
Ron Marine
Tomer Chen

Head Coach: Brandon Sparks
Assistant Coach: Zach Simkin

​Kutztown Golden Bears Lineup

Johan Van Wyk - Prop
Max Bennett - Hooker
Alex Coveo - Prop
Casper Huizenga - Lock
Evan Anderson - Lock
Allen Kaufman - Wing Forward
Jordan Ghyzel - Wing Forward
Bilah Hassen - Eight
Niku Kruger - Scrumhalf / Kicker / Captain
Brad Frederick - Fly Half
Vetekina Malafu - Wing
Robert Starz - Inside Center
Nuu Aiavlet - Outside Center
Alex Faison-Donahue - Wing
Trent Hensley - Fullback

Reserves 

Adam Grider - Fullback
Jeff DeFago - Forward
Andrew DeColi - Forward
Alex Duke - Back
Conner Bryant - Back
Duke Makinit - Back
Jonathan Sage - Back

Head Coach: Doc Jones
Assistant Coach: Larry Chester