2014 ACRC: Life University vs Army
Saturday November 22, 2014 - 12:00 AM
November 22, 2014

-

6:15PM

@ ACRC Bowl Series @ Rugby Athletic Center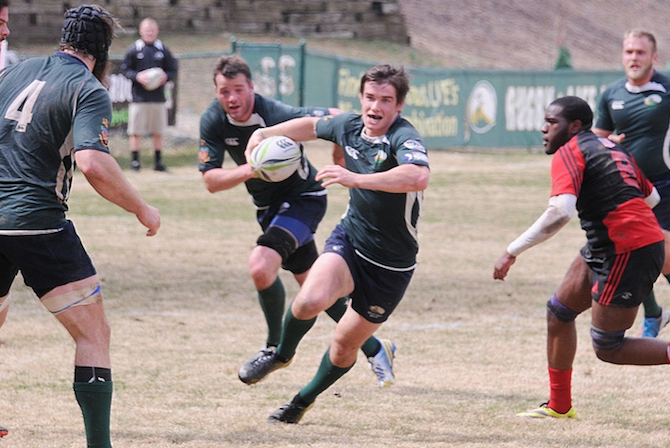 Ryan Ginty, commentator for Goff Rugby Report's live webcast of the ACRC Bowl Series, may have put it best: "Life is putting on a clinic." And they were. 
The Running Eagles of Life University were a wall on defense and built bridges through the men of West Point's formidable line on the way to an unexpected 53-19 pummeling of Army.
The final in some ways does not reflect what was often a defensive battle as both teams struggled to break through on the verge of the try zone on both sides of the field. It came down to quickness, positioning and passing skill for the Running Eagles, who found a way to score against a Black Knight team that vanquished all comers in the D1 Rugby East conference this fall.
Life's Harley Davidson led the offense with two tries. Glen Maricelli, Hiko Malu, Blaine MacIlroy, Duncan Van Schalkwyk and Mark Gribben also scored for the Running Eagles.
Life Running Eagles Lineup

1 Paris Hollis 
2 Aaron Montoya
3 Alex Maughan
​4 Xander Daniels
5 Sebastian Banos
​6 Hiko Malu
​7 Zach Warren
8 Glen Maricelli
9 Marcus Walsh
10 Blane McIlroy
11 Tyrus Baytops
​12 Jake McFadden
13 Mark Gribben
​14 Harley Davidson
15 Duncan Van Schalkwick

Army Black Knights Lineup

1 Greg Walker 
2 Jamison Geracci 
​3 David Evans 
4 Benjamin Foley 
5 John Sproul 
6 Peter Basnight
​7 Collum Magee (Captain)
8 Jack Ireland 
9 John Banarhall 
10 Thomas Del Pino
​11 Jake Lachina
​12 Andrew Fargo
13 Cody Brown 
14 David Huff
15 Andrew Borer
Referees
Head Referee - Chris Henshall
AR's - Evan Kelly, Brian Kelly
About 
Life's appearance against unbeaten Army at the ACRC Bowl Series in Charlotte on Nov. 22 is regarded as the de-facto ACRC championship match. Army, ranked #1 in the ACRC Coaches Poll and #3 in the Canterbury D1A Top 20, and Life, ranked #2 in the Canterbury D1A Top 20, are perennial top-5 national teams and promise an extremely high level of play when they take the field at 6:15 p.m. on Saturday.
Army, Rugby East Conference champion, is coming off victories against Kutztown, Air Force and Wheeling Jesuit to close out its perfect fall. Players to watch include senior flanker Collum MaGee, senior prop Dave Evans, sophomore center Andrew Fargo and wing David Huff, a starter in his freshman year who scored in six of the team's seven contests and leads the team in tries with nine.
Life is unaffiliated and does not play a regular fall 15s schedule, choosing to play various select teams and highly-ranked college squads. Standout players include All-Americans Paris Hollis (senior, lock and prop), Jake McFadden (senior, scrum half and flyhalf) and Glen Maricelli (senior, hooker).  
"We're excited to be a part of this and we're honored to share the field with West Point," Life coach Dan Payne told the Goff Rugby Report. "We'll be ready."