2014 ACRC Bowl Series: North Meck v Hough HS
Friday November 21, 2014 - 12:00 AM
November 21, 2014

-

4:00PM

@ ACRC Bowl Series @ Rugby Athletic Center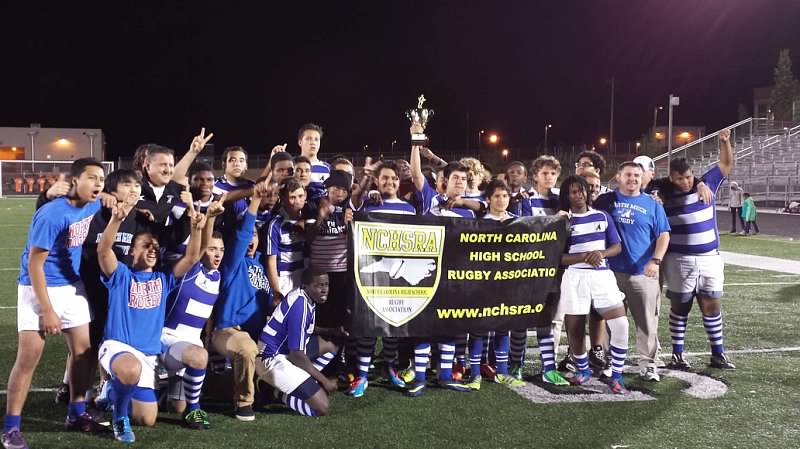 The North Mecklenburg High School Vikings defeated the Huskies of Hough High School by a score of 33-5 in the first match of the ACRC Bowl Series in Charlotte, NC.
Hough struck first but could not tame North Mecklenburg's offense. North Meck outside center Corey Patton had four tries for the Vikings. 
North Meck's Men of the Match, presented after the game by Boathouse Rugby President/CMO Doug Tibbets, were Dylan Brooks, Troy Kyse and Anthony Recinos. Hough's Men of the Match were Joel Henerso and Dom Salindino. 
About
Rugby football kicks off Friday at the Rugby Athletic Center as local high school rugby powerhouses North Meck and Hough High School face off in a bitter cross-town rivalry.
While only in its second year, the Hough Rugby Club has already seen a promotion from Division II to Division I and a blossoming rivalry with rugby stalwart North Meck. Hough went 6-3-1 in 2013-14 and saw 30 players come out for pre-season runs this fall. 
North Mecklenburg High School fields Academy and Elite teams. The program went from a winless season in 2012 to .500 in 2013 to second in the state in 2014. Expect a great game between these two local high school squads. 
Hough HS Huskies Lineup (V)

Jake Winters - Prop
Stephen Holthouser- Hooker
Ben Whitley - Prop
Hunter Jones - Lock
Mason Cain - Lock
Brooks Townsend - Wing Forward
Jackson Masterson - Wing Forward
Dowling Saladino - Eight
Dan Avery - Scrum Half
Sam Heault - Fly Half
Jaqaris Henderson - Wing
Dalton Sherwood - Inside Center
Christian Branch - Outside Center
Anthony Pugh - Wing
Connor Carey - Fullback

Coach: Jeff Corey
Coach:  Jamie Hicks

North Meck Vikings Lineup (H)

Troy Kyse - Prop
Angel Adams - Hooker
Alex Morgan - Prop
Raymond Romero - Lock
Teddy Johnson - Lock
Wes Gutheridge - Wing Forward
Marcos Hernandez - Wing Forward
Uzi Albino - Eight
Dylan Brooks - Scrum Half/Captain
Anthony Reccinos - Fly Half
Christian Jones - Wing
Marques Crosby - Inside Center
Corey Patton - Outside Center
Brandon Aruta - Wing
Daniel Gonzalez - Fullback 

Alternates:
John Yanquee - Scrum
Mohammad Anwar - Fullback
John Yanquee - Lock
Demichal Ramsey - Center
Jan Bercero - Wing
Neil Jones - Center
Wyatt Bradford - Prop

Head Coach: Bo Paske