2014 ACRC Bowl Series: West Virginia University vs Stony Brook University
Saturday November 22, 2014 - 12:00 AM
November 22, 2014

-

2:45PM

@ ACRC Bowl Series @ Rugby Athletic Center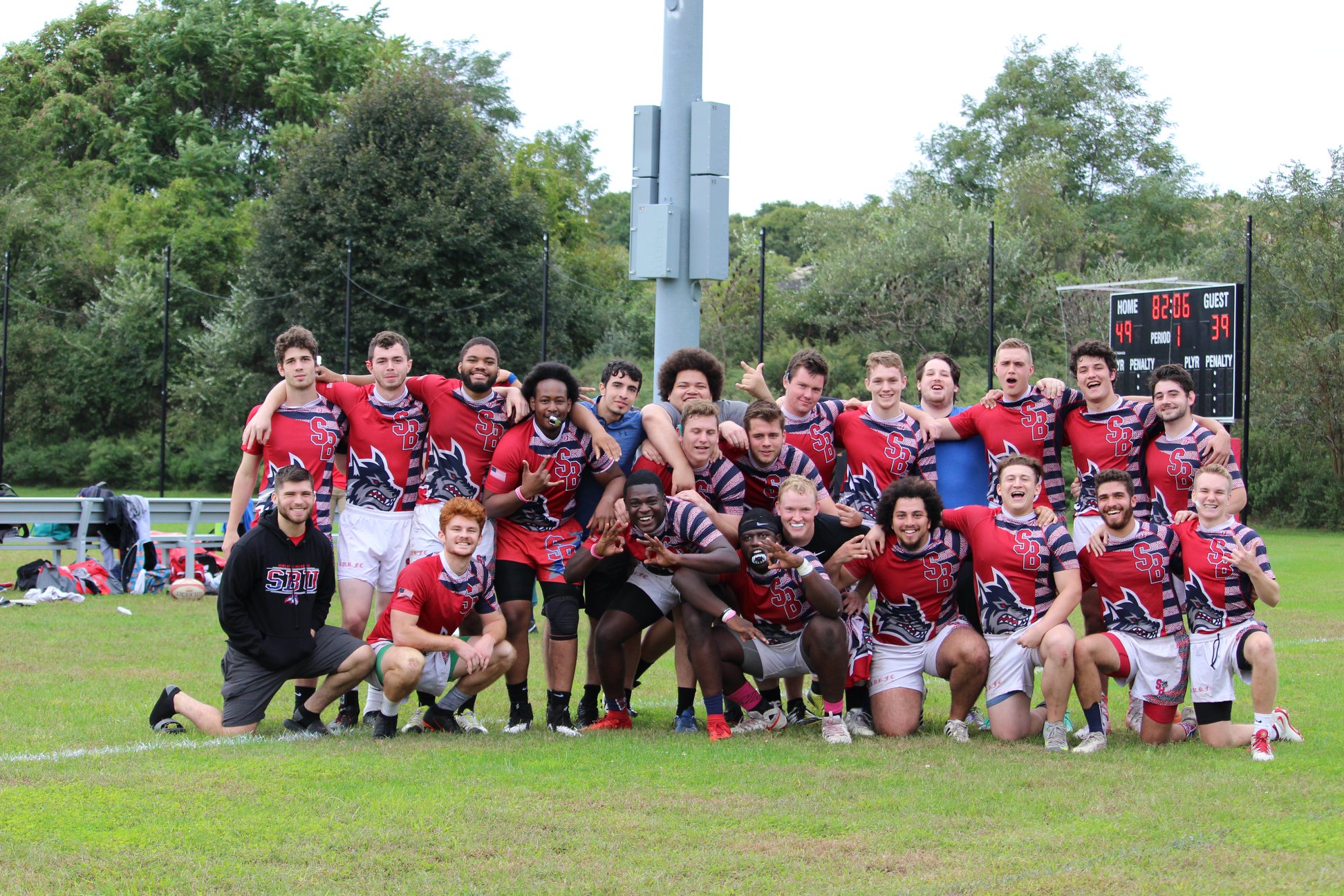 Stony Brook pulled out a dramatic win over West Virginia, scoring a late try to prevail over the Mountaineers 21-20 at the ACRC Bowl Series in Charlotte on Nov. 22. 
West Virginia's Luke Ellis started the scoring, answered by Dan Lyons of Stony Brook with a converted try. West Virginia would retake the lead leaving the game at 10-7 at the half. The lead would see-saw three times in the second half, with Stony Brook getting tries from PJ Abelin and Phil Salter, and Ryan Blythe and Luke Ellis scoring for WVU.  
In the end it was a try by Phil Salter and conversion by PJ Abelein that put the Seawolves up for good. 
Stony Brook Seawolves

1 Dan Melgar
2 Joe Farnetti
3 James Sheridan
4 Tom Harty
5 Dan Lyons
6 Marty Pessante
7 Rob Maloney
8 Phil Salter
9 Austin Robinette
10 PJ Abelin (Kicker and captain)
11 Dylan Clay
12 Shane Wend
13 Xavier Quinn
14 Carlos Navas
15 Bryan Michel

Reserves

16 Will Wied
17 Bart Sweeney
18 Gabe Bleicher

West Virginia Mountaineers

1 Brendan Kammerdeiner
2 Nae Paugh III
3 Amir Furman
4 Alex Feidt
5 Manny Debra
6 Derek Antonucci
7 Rick Pugh
8 Ryan Blythe
9 Kris Wilson
10 Joe Watson
11 Luke Ellis
12 Austin Hoover
13 Eric Vilani
14 Logan Reece
15 Chris Mackenrodt (Kicker)
About
West Virginia were Keystone Rugby Conference champions after their victory over St. Joe's, their second consecutive conference title. Stony Brook went 7-0 this fall on the way to their second straight Empire Rugby Conference championship. 
Stony Brook is a well-balanced, methodical team used to winning by big margins (such as their 44-15 defeat of Binghamton for the ERC title). They will run up against WVU's emphasis on defense and reputation for being stingy in letting up tries.  
Catch the matchup between these two very talented teams on Saturday at 2:45 p.m. at the Rugby Athletic Center.