2014 Bowl Series: Clemson vs University of South Carolina
Saturday November 22, 2014 - 12:00 AM
November 22, 2014

-

8:00PM

@ ACRC Bowl Series @ Rugby Athletic Center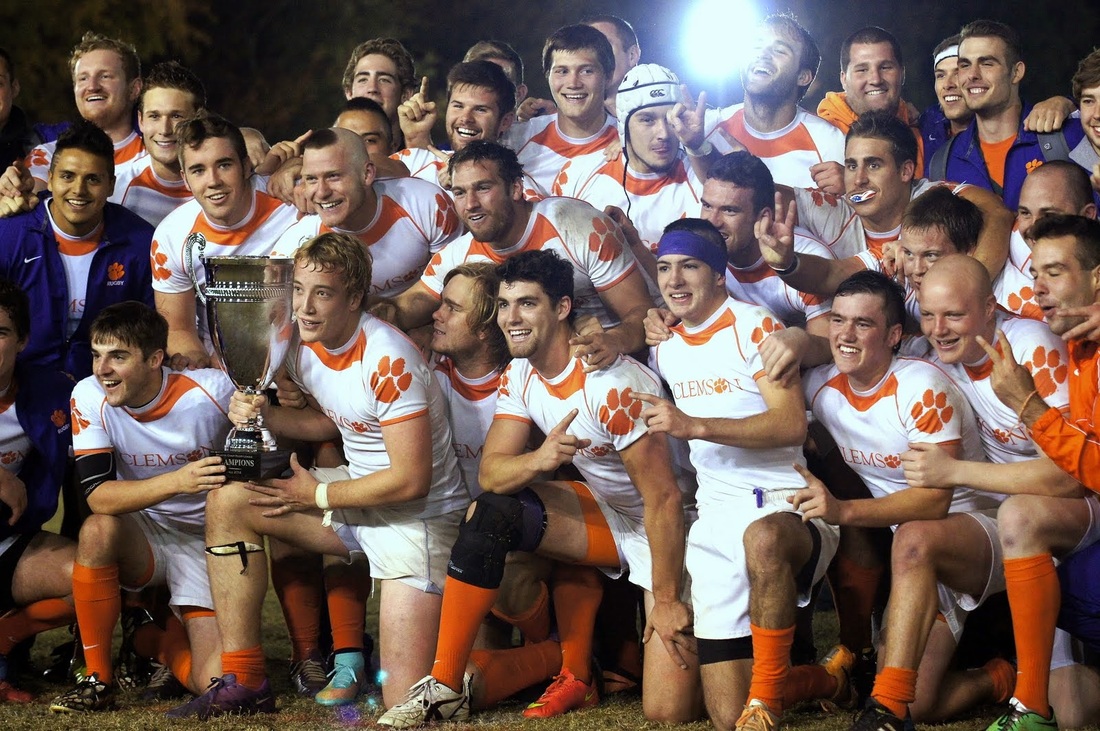 Remember when ... Clemson pulled out the big win over in-state rival South Carolina at the 2014 ACRC Bowl Series in Charlotte. The Tigers' relentless defense proved more than enough to stop the talented Gamecocks from running their usual attack as Clemson allowed only two tries in a 40-14 win.
The Tigers jumped out to a 10-0 lead behind tries from Max Simons (converted by Aaron Keers) and a penalty kick from Keers. It was 20-14 at the half and 27-14 after a try from Dylan Goulding (conversion by Keers) before Clemson pulled away in the final 20 minutes.
About
South Carolina's two premier college rugby teams meet in Charlotte! Both earned marquee position at the Bowl Series by winning their respective conference championships. Clemson and South Carolina meet at 8 p.m. Saturday at the Rugby Athletic Center for what's being called the Palmetto Bowl. 
With their win over Alabama on Nov. 16, the South Carolina Gamecocks are champions of the Southeastern Collegiate Rugby Conference. The win earned them a top seed at the ACRC Bowl Series in Charlotte this weekend, where they play the Atlantic Coast Rugby League champion Clemson Tigers at 8 p.m. on Saturday. 
This sets up a very special event: The two best collegiate rugby programs in the state of South Carolina meeting as reigning champions of their respective conferences in a de-facto Palmetto State title game.
For Clemson, the game offers a return to the site of recent triumph as the Tigers defeated Maryland 39-10 for the ACRL crown at the RAC on Nov. 8.
Clemson Tigers Lineup

1 Jai White
2 Dan Collins
3 Max Simons
4 Jimmy Rippert
5 Stuart Harr
6 Ryan Sullivan
7 James Rogers
8 Kevin McKeown
9 Ryan Gilroy
10 Nick Richards
11 Drew Dommel
12 Rion Tapp
13 Dylan Goulding
14 Nick Johnson
15 Chris Abraham 
16 Nick Bilgri
17 Blake Bowen
18 Tommy Rippert
19 Joel Jaldin
20 Josh Driscoll
21 Brandon Phan
22 Dylan Barger
23 Colin Gregory
Aaron Keers (Kicker)

Coach: Justin Hickey

South Carolina Gamecocks Lineup

Jake Phillips - Prop
Drew Busbee - Hooker
Ben Mather - Prop
Zach Mullineaux - Lock
Zac Gorman - Lock / Captain
Dana Corcoran - Wing Forward
Jared Magill - Wing Forward
Mike Mahon - Eight
Brian Keown - Scrum Half / Kicker
Michael Rudzinsky - Fly Half
Luke Bolemback - Wing
Sean Barnes - Inside Center
Christian Harrell - Outside Center
Avery Darnell - Wing
Thomas Coar - Fullback

Head Coach: Mark Morris
Assistant Coach: Steve Darnell
Assistant Coach: Geoff Mason